The benefits of automating SMS communication, marketing and alerts
Automating SMS guarantees the timing, relevance, personalisation and performance of communications, helping to cut costs, improve marketing and reduce risk.
Integrating SMS Automation software within existing business systems, such as CRM, ERP or marketing software, enables you to create and distribute data-driven, personalised text messages to employees, prospects, suppliers and existing customers at the exact moment the communication is required. It also helps reduce the reliance on manual input, which can be time-consuming and error-prone.
Automating SMS marketing and customer relations
For example, SMS can be a powerful marketing vehicle when used tactically, helping to yield significant financial returns for any type of organisation. However, the biggest challenge with SMS marketing is timing and relevancy as both these criteria are dependent on employees having the time and skills to identify the correct audience and message content.
SMS Automation software can automatically identify prospective SMS campaign targets (e.g. customers who have not purchased for six months or recently bought a related product) and send them a promo code or other call to action via SMS. It is also a cheaper, quicker way of distributing surveys, and usually results in an increase in responses due to the ease at which people can reply and communicate.
An organisation's ability to deliver personalised communications at the right time is a key factor in customer service, retention and engagement. SMS Automation software can intelligently monitor all your business applications and automatically send personalised SMS messages such as order statuses, delivery notifications, event reminders, appointment confirmations, service reminders, contract renewals or news updates.
Preventing risk via SMS automation
This process can also be applied to prevent an organisation's exposure to risk, such as managing stock level thresholds, technology faults or exposure of sensitive data. SMS Automation software provides system-generated text messages and can automatically monitor business applications and send SMS alerts when exact business rules are breached or emergencies occur.
Taking security one step further, automated SMS can also be used to enhance security protocols, such as automatically handling two-factor authentication (2FA) for remote access or login procedures whereby a one-time password or SMS token is sent to the recipient's mobile via Flash SMS. This is essential if 2FA is going to work effectively and efficiently.
ToucanText SMS Automation
ToucanText SMS Automation is a unique software suite that enables organisations to dynamically integrate SMS with existing systems and then automate alerts, order confirmations, marketing and surveys, directly from business software, 24/7, 365 days a year.
The product offers a totally scalable, cost-effective automation solution for organisations, ranging from the SMB to the large enterprise. It provides unrivalled functionality for the dynamic production of scheduled or real-time SMS messages from existing business systems.
In addition, its extensible inbound message handling capabilities provide a high level of intelligence for routing or database integration. The ToucanText SMS Automation software can be integrated with a wide range of applications and systems, including Access Dimensions, dotmailer, Epicor, HubSpot, Mailchimp, Microsoft Dynamics, Infor CRM, Sage, or SAP Business One.
ToucanText SMS Automation is used in a variety of industries including education, emergency services, finance and insurance, healthcare, housing, law, local government, logistics and distribution, manufacturing, recruitment, retail, sport and leisure and travel and transportation.
For more information on how to integrate SMS into your apps or business systems, call 0330 998 0022 or email info@toucantext.com.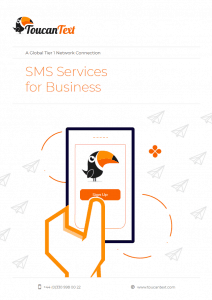 ToucanText Brochure - SMS Services for Business
Our global network enables you to connect to over 7 billion people, across 195 countries, via 1600 direct-to-carrier and Tier 1 connections, guaranteeing global outreach..
Download Brochure