Automating system alerts and network monitoring alerts
Using SMS for system alerts and network monitoring alerts can help reduce risk, improve cash flow, better manage inventory control and enhance customer service.
Despite investment in intelligent business systems, many organisations still rely on staff and manual processes to monitor data changes and distribute updates to customers and personnel. Relying on processes that need to be performed manually can have a significant impact on the organisation – especially when the data change and/or information is critical to the entire workflow.
It might be an IT issue whereby there has been significant changes to sensitive data, such as the deletion/addition of files to a network folder, or the website or eCommerce store are experiencing problems. Finance may be affected by an overdue payment resulting in cash flow difficulties. Inventory may have dropped below an established level which can have a serious knock on effect for sales, distribution and customer service. Customers or patients may be affected by changes to arranged appointments. The list is endless.
System alerts and network monitoring alerts can help alleviate this.
Automating the monitoring of data changes generated by any business system (accounting, CRM, ERP, practice management, warehousing etc.) will remove the inconsistency and possibility of any problems being overlooked. Significant or critical data changes can be immediately recognised and then extracted to notify the relevant person or department via SMS – especially flash SMS. With 100% visibility of critical information decisions can be made a lot quicker and serious crises can be averted.
Likewise, any changes or updates in a system that could affect customers, candidates, patients, tenants etc. could be quickly sent to them via SMS, making sure that they are aware of the situation so that they can make alternative arrangements or respond accordingly. Additionally, job candidates can be immediately informed about a new opportunity or opening that is relevant to them.
IT systems and data centres
With businesses and organisations heavily reliant on the uptime of data centres and IT systems, the IT manager, or team, need to be fully aware of any faults or interruptions to service. The systems, especially in mission critical ones, require constant monitoring and report capabilities 24 hours a day, 365 days a year.
When faults are detected, such as UPS alerts, mail server problems, irregular comms-room temperature or even a server drop off, they are usually assessed and prioritised. Faults that require immediate action are then notified to the relevant IT duty manager, who will make a decision on appropriate action.
IT monitoring systems will utilise a number of methods of communicating these system alerts to the IT manager, and one of the quickest and most reliable ways is via SMS. Text messaging technology can be easily integrated into any monitoring solution and enable the IT manager to receive instant automated messages whilst on call through the day or night.
It is a similar scenario for businesses that are reliant on chilled storage. Monitoring the freezer equipment is essential to prevent the loss of frozen goods and chilled inventory and exposing the organisation to financial risk.
Finance and sales
Good cash flow is paramount for every organisation. If issues aren't addressed immediately they can have serious implications for both the finance and sales teams. If the organisation also relies on manual checks, then these issues can often be missed. Monitoring finance and sales systems and then automating the delivery of SMS alerts to the relevant people can reduce this risk. Alerts for finance and sales could include:
Overdue payment from customer
Bank overdraft within 15% of limit
Customers near credit limit
Customers over credit limit
Orders over agreed credit limit
Key customer put on credit hold
Practice management overtime
Logistics and warehouse operations
The movement of goods and materials, especially for supply chains and delivering good customer service, is another aspect of business that needs to run smoothly. Any deviation from agreed deliveries can have a serious impact on any business. It is therefore paramount that all relevant people are immediately aware of any issues that may affect this. An automated solution can monitor business systems and send text messages directly to the relevant people, such as:
Stock availability low
Stock availability at zero
Delay in materials / equipment
Rescheduled delivery / change of address
Inventory below agreed level
With an automated SMS system in place, potential issues can be identified and averted before they become a problem, removing the risk of relying on employees to monitor and report on potential issues.
If you would like to use SMS in your communications, or would like to integrate automated monitoring and SMS services into your business software, please call 0330 998 0022 or email info@toucantext.com.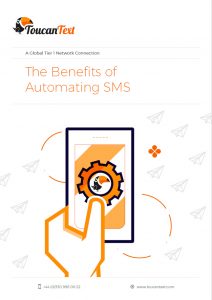 ToucanText SMS Automation
ToucanText SMS Automation is a unique software suite that enables organisations to dynamically integrate SMS with existing systems to automate alerts, order confirmations, marketing and surveys, directly from business software, 24/7, 365 days a year.
Download Brochure