CFC Consult integrates ToucanText into its recruitment software
Recruitment specialist integrates ToucanText bulk SMS service and inbound numbers to send and receive text messages to hospitality and catering staff
CFC Consult is a hospitality and catering recruitment specialist supplying staff to a variety of clients; from a small nursing home and large caterer to gastro pubs and international hotels. It uses dedicated recruitment software to run its operations and needed to find a new SMS service following the termination of its existing provider.
"We used to use another SMS provider with our recruitment software. However, the company disappeared. We still need to send texts though, as the majority of candidates can't talk during the day. However, if we send a text they often reply straight away. So, after some discussion, we selected ToucanText," explained Dominique Crapart, Company Director, CFC Consult Ltd. "The integration with ToucanText was very seamless and the service and implementation was great. It seems like a lot of people are migrating to ToucanText and it is working very well. It does what it says on the tin."
Although CFC Consult uses WhatsApp to communicate with candidates on an individual basis, the messaging app still has its limitations.
"SMS is still needed. You can send a thousand messages at one time via SMS. You can't do that with WhatsApp, especially due to GDPR, as it would reveal everybody else's number. Therefore, if we want to send a group text, for example to 200 candidates, we send via SMS and request that they reply to our inbound number or to a specific number which is directed to the relevant member of staff," said Crapart. "The good thing is that the replies get sent to the email of the person that sends the texts. The service is very good."
If you would like to use ToucanText's SMS services in your recruitment software, please call 0330 998 0022 or email info@toucantext.com.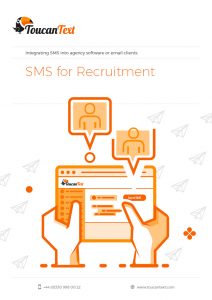 SMS for Recruitment Agencies
Text messaging is a very efficient way of communicating with job candidates and temporary staff, and can be easily integrated with any agency software or email client you are using.
Download Brochure