Mynt Recruitment selects ToucanText for bulk SMS service
Mynt Recruitment uses ToucanText's bulk SMS services to issue text messages to its temps via its recruitment software.
Mynt Recruitment is a successful independent recruitment business formed in December 2004, with branches in York, Hull and Rotherham. It employs around 400 temps per day and runs its day to day activities via dedicated recruitment software, which included SMS functionality for communicating with its temps, both sending and receiving messages.
"SMS is very effective, precise and simple. We are used to the texting service because it is something that we have done for many, many years. It is effective and our way of communicating, other than just email and phone calls. It records both ways for us and sits there on the records. That's also applicable to clients as well. We find it effective; it does the job. It's as simple as that," explained John Stanton, Chairman, Mynt Recruitment.
"Every single week, every one of our active temps gets sent two text messages that are issued via our recruitment software. They are sent out in bulk, branch by branch. For example, there are 423 staff working today and each one will get a text saying: How's it been this week? Hope you're OK. We'll book you in for next week."
"Each response we receive from them goes straight back to the branch and into the system. If the branch doesn't get a response – we know when they've all been responding because we can see the report in front of us – we're immediately on the phone to that temp wondering why they haven't replied to the text."
Mynt (which is derived from "Meeting Your Needs Today") selected ToucanText's SMS services from within the recruitment software, having experienced issues with a previous supplier, and were up and running with ToucanText's SMS services within minutes.
"The integration with ToucanText was simple, straightforward and seamless. I can't fault it. The level of service we are getting is significantly better than we were getting in the past and the responses we are getting is excellent." John goes on to say: "We get out of it what we expected to get out of it. From my point of view, that's all we can wish for."
If you would like to use ToucanText's SMS services in your recruitment software, please call 0330 998 0022 or email info@toucantext.com.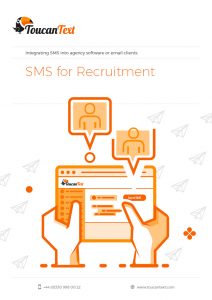 SMS for Recruitment Agencies
Text messaging is a very efficient way of communicating with job candidates and temporary staff, and can be easily integrated with any agency software or email client you are using.
Download Brochure