Automated SMS system – why businesses are using system-generated text messages
An automated SMS system allows businesses to send data-driven text messages automatically. Texts can be sent on a scheduled basis for a marketing campaign or from a trigger event within another business application, such as when stock levels reach below agreed stock level limits in an ERP system. An automated texting app also enables an organisation to send text messages to the right people at the right time, providing them with real-time information, as and when they need it.
Typical areas where an automated SMS system can improve company performance, internally and externally, include:

Internal
Large customer account placed on credit hold
Stock level alerts
Back orders now in stock
Aged debtor updates
Price change updates
Server room notifications


External
Order status updates
Order confirmations
Service date reminders
Contract renewal reminders
Delivery notifications
Appointment confirmations

Below is a free-to-use template to document all the sources of data that could trigger system generated text messages.
What is an automated SMS system?
An automated SMS system provides SMS automation for any number of business scenarios. Having the ability to dynamically create and distribute personalised, automated SMS messages helps a business to enhance customer service, increase the visibility of management information and generate new business opportunities. Automation, in any business function, helps to reduce administration costs, improve communication and reduce company risk by guaranteeing the timing and relevance of personalised messages and company information.
A dedicated SMS automation platform can be integrated with a wide range of business systems and applications, such as CRM, ERP, WMS and marketing systems. Building SMS into your business systems provides additional functionality to your SMS communications. Having the additional function of an automated SMS system will enable you to dynamically create and distribute SMS messages on a scheduled basis or in real-time from your existing systems. In addition to creating and scheduling SMS text messages, a business SMS automation platform enhances inbound message handling capabilities and will provide a greater level of intelligence for routing or database integration.
An Automated SMS system provides the ability to both create and send data-driven, personalised SMS messages and process inbound text messages and delivery receipts. This allows you to benefit from queue messaging as well as the ability to automate replies and distribution of inbound messages to CRM, ERP and marketing systems. Market leading SMS automation software should include the following features:
Create and Send Text Messages
Used to create and send data-driven, personalised text message to employees, customers, prospects, suppliers, and so on. Sending can be automated to guarantee the timing of the text messages.
Merge message with data from other processes
Static or dynamic recipients
Multiple recipients
Memory features to memorise data created
System architectural overview of sending text messages
Retrieve Text Messages
Used to process inbound text messages and delivery receipts.
Uses XML
Map inbound message data, including variables
Map inbound delivery message data including variables
Ability to reply to inbound messages
Drag and drop mapping interface. Only map what is required to be sent to and retrieved from SMS provider e.g. Visual links help the identification of mappings between an XML data source and an outgoing XML sent to the SMS provider's API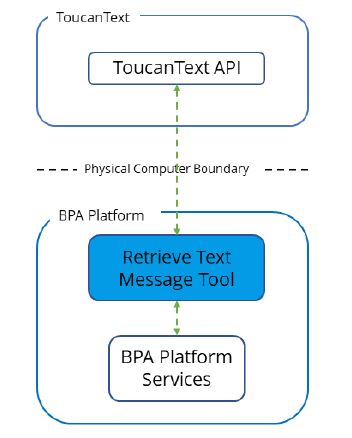 System architectural overview of retrieving text messages
The software can be used to monitor different systems and databases, following your business rules, and automate the distribution of system-generated text messages when certain process triggers are initiated.
With business data being held in multiple systems and applications across different departments, it is essential that information needs to be extracted and distributed accordingly. This ensures that employees, customers and suppliers receive relevant and up-to-date information.
Using an automated SMS platform reduces the manual administration tasks and associated errors that surround this process. Occasionally, the correct information can be difficult to find within a system which means that manually monitoring data changes and distributing SMS updates will consume valuable employee time.
Automated SMS solutions can be easily integrated by companies of all sizes, ranging from SMEs to enterprise organisations using business systems such as:
SAP Business One
Microsoft Dynamics
Sage
Access Dimensions
Epicor
dotdigital (formerly dotmailer)
HubSpot
Salesforce
And many more
System-Generated Text Messages Examples
Integrating your SMS service provider with your existing business systems will enable the automation of scheduled and trigger-based text messages direct from your business software, 24/7, 365 days a year. Practically any business process can be set to follow pre-defined business rules, events or triggers, which can vary from department to department, to automate system-generated text messages. For example:
Finance department; Overdue payment reminders to the customer, bank overdraft with X% of limit
Sales and Marketing; Key customer put on credit hold, delivery confirmation, sales promotions
Manufacturing; Delays in materials, delays in production, time sheet reminders
Information Technology; Website or systems down, hacking attempts
Logistics and Operations; Low stock levels, rescheduled delivery, dispatch notifications
Benefits of an automated SMS system
System-generated text messages provide businesses with several distinct benefits. The integration of an SMS service with existing business systems, such as accounting, ERP, CRM or marketing applications, provides the ability to automate the creation and distribution of real-time and relevant information through SMS messaging.
SMS automation allows messages to be sent internally to employees and externally to suppliers, customers and prospects, with the correct information at the right time. Automated SMS removes repetitive, manual administration and human error to enable employees to concentrate on additional tasks to drive the company forward.
Common benefits achieved by organisations using an automated SMS system include:
Improved customer communication
Drives company revenue through automated SMS marketing e.g. sales promotion, discount codes, new stock lines
Protection of business systems with monitoring alerts e.g. server faults, process errors etc.
Reduce risk with automated business alerts e.g. low stock levels, incorrect pricing, sensitive business data etc.
Increase response to survey responses
Enhance security protocols e.g. send one-time passwords via Flash SMS
ToucanText – An Automated SMS System
ToucanText is a fully-fledged automated SMS system that enables businesses of all sizes to automatically send and receive system-generated text messages. SMS automation with ToucanText will help you to dynamically automate SMS alerts, order confirmations, marketing promotions, surveys and more from your business software, 24/7, 365 days a year.
ToucanText's SMS platform can be easily integrated with many business systems and applications such as SAP Business One, Microsoft Dynamics, Sage, Access Dimensions, HubSpot, Salesforce, Mailchimp and Infor CRM, to name a few. Its integration capability extends inbound message handling to provide a high level of intelligence for routing or database integration.
For more information on how ToucanText provides you with an automated SMS system, call 0330 998 0022 or email info@toucantext.com.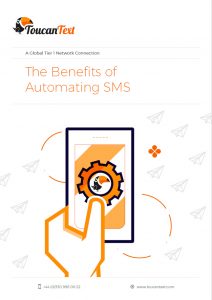 ToucanText SMS Automation
ToucanText SMS Automation is a unique software suite that enables organisations to dynamically integrate SMS with existing systems to automate alerts, order confirmations, marketing and surveys, directly from business software, 24/7, 365 days a year.
Download Brochure