The benefits of SMS for transportation and logistics companies
As with any element of business, a key attribute that contributes to good logistics and transportation management is communication, and text messaging can play a pivotal role.
Logistics is a core function for the majority of businesses today as it enables companies to understand and evaluate the entire flow of operations, from the very start of the supply chain right to the end – the point of consumption.
The supply chain is extremely complex and sometimes unpredictable, having to contend with a number of differing factors such as transportation, inventory, warehousing, packaging and disposal, which are all reliant on on a network of independent, yet interconnected, moving parts. However, managed well, organisations can reduce costs, become more efficient, and ultimately increase turnover and profit.
Sending text messages to customers and drivers
SMS for transportation and logistics can be easily integrated into existing systems utilising a simple API, providing a cost effective, quick and reliable way to communicate with customers, drivers and employees.
For drivers or contractors on the move, it is the easiest and safest way to contact them, providing a simple, yet effective two-way communication channel. Changes in drop off or pick up schedules, correct contact details or new jobs, can all be communicated by a simple click of a button.
SMS messaging is also the most effective method to communicate with customers. The majority of people have their mobile phones within close proximity and research has shown that people are more likely to see, read and act on messages through their phones than any other form of communication; 90% of text messages are read within four minutes.
Sending text messages to customers regarding updates on delivery statuses, proof of delivery or an update on a service can significantly improve customer relationships and loyalty.
A good example of this is if a customer is working remotely or on site, such as a builder, electrician, gas technician, maintenance contractor, mechanic etc., waiting for the delivery of materials or parts.
Ten examples of SMS for transportation and logisitics companies
There are a number of different ways that SMS messaging can be exploited to improve logistics and transportation management:
Send delivery confirmations and/or the option to rearrange deliveries
Make customers and staff instantly aware of schedule changes or cancellations
Provide drivers with delivery and new collection updates
Notifications to drivers about traffic delays, accidents or emergencies
Send tracking information with URLs
Employ inbound numbers to enable customers and employees to respond instantly
Pull inbound text messages directly into inboxes or business systems
Send invoice reminders or late payment alerts
Distribute inventory management alerts to customers and staff, such as inventory shortages, order delays or back order updates
Send surveys requesting feedback about a delivery or service
If you would like to use SMS in your communications, or would like to integrate SMS into your logistics or transportation systems, please call 0330 998 0022 or email info@toucantext.com.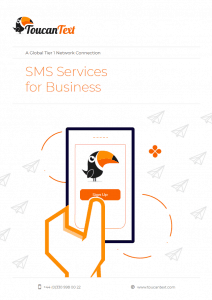 ToucanText Brochure - SMS Services for Business
Our global network enables you to connect to over 7 billion people, across 195 countries, via 1600 direct-to-carrier and Tier 1 connections, guaranteeing global outreach..
Download Brochure