8 SMS marketing tips to drive company revenue
With the rapid growth of smartphone users in recent years, SMS marketing has become an essential marketing tool. An SMS message ensures a higher delivery and open rate than email to increase customer engagement and conversion. Bulk SMS marketing solutions such as ToucanText provide organisations with a cost effective and efficient marketing channel to communicate with customers who always have their mobile phone to hand.
Text message marketing provides a high delivery rate and can be used in multiple ways including promotional SMS for brand awareness, new products, events, seasonal sales and discount codes to quickly and easily communicate with the target audience.
8 SMS Marketing Tips to improve performance
If you already use SMS as a marketing tool, or are looking to create a new text message campaign, the following SMS marketing tips will help you to improve performance.
Gain consent: Let's face it, nobody likes to receive unwanted marketing material, and the recent introduction of the General Data Protection Regulation (GDPR) means that you must request consent from your customers to contact them. You can gain their consent through double-opt in on your company website, email marketing and via customers opting in by texting "Yes" to your SMS short code. It is also important to note that you will need to make it easy for your customers to opt out from receiving text messages. For more information on GDPR read this article: What is GDPR?.
Know your customers: Once you have gained consent you will need to create your send list. Using your CRM system you will be able to segment and identify customers who have opted in to receive communications, purchase history, interests, demographics and other related data that you may want to segment to ensure that the right customers receive an SMS message that they can relate to. Typical SMS marketing messages can include new customer discount codes, seasonal sales, birthday discounts or an exclusive pre-sale of a new product.
Clear and short messaging: An SMS gateway service provides you with 160 characters, so you will need to ensure that your marketing message is clear, easy to read and gets the point across.
Use call to actions: The aim of sending promotional SMS is to encourage the recipient to react and take action. Your customer needs to know what they need to do to act on your message and therefore you need to tell them what to do. It can be tricky coming up with a message that is interesting, with a relevant CTA in 160 characters, so you may need to come up with a few options until you are satisfied. Common CTAs include: "Text [number] to Win", "Buy now" or "Show this message to a cashier".
Time it right: The timing of your text messages can influence the success of open and response rates. It's worth considering which day of the week would generate the best response, and whether or not this day coincides with a national event or public holiday. It may also be worth considering the time of day to send the promotional SMS to avoid hours where customers may not be able to access their smartphone easily, for example during a daily commute. Another major consideration to take into account is local time zones to avoid sending SMS communications during the night.
Track results: Once the promotional bulk SMS campaign has finished it's common practice to measure the results. This can be done by analysing the number of messages delivered, opened and then clicked through for further action. In addition to monitoring open and click through rates it's worth measuring sales for a complete indication of a successful campaign.
Compliment and support other marketing channels: Promotional SMS is just one marketing tool than can be used to reach customers. Successful marketing campaigns often use multiple marketing channels to ensure that campaign objectives and targets are achieved. This means that promotional SMS should be used alongside other marketing forms such as email, social media and direct mail campaigns for the best results.
Automate SMS campaigns: SMS automation allows organisations to automate the creation and distribution of data-driven, personalised SMS messages to prospects and customers as and when required. SMS automation can be used to help drive revenue by automatically identifying campaign prospects and delivering promotional codes and offers, for example shopping cart abandonment in eCommerce.
For more information on how to maximise SMS marketing, call 0330 998 0022 or email info@toucantext.com.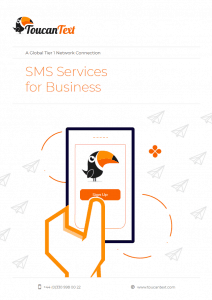 ToucanText Brochure - SMS Services for Business
Our global network enables you to connect to over 7 billion people, across 195 countries, via 1600 direct-to-carrier and Tier 1 connections, guaranteeing global outreach..
Download Brochure