How do companies send text messages?
Companies send text messages, either individually or bulk SMS, in a variety of ways: online, via email or integrated into business systems
Even in this era of smartphones and instant messaging, many companies send text messages to their customers and workforce as they realise that it is a much more effective form of communication – whether this is for marketing purposes, issuing updates, generating alerts, providing information or sending out reminders.
In fact, texting is still the most widely used mobile app, mainly due to the fact that every phone by default has text message capabilities and that it is easy to use for anyone, no matter their technical ability. Although half of the figure from 2012, which was at its peak, 82 billion SMS and MMS messages were still sent in the UK in 2017.
No matter where people are in the world, the one common item that the majority of people have within arms reach is their mobile phone. As a result of this, which has been widely reported, over 90% of text messages are opened and read within three minutes of being received.
This makes text messaging very direct, providing immediate delivery when sent, especially as SMS doesn't have to combat spam or messaging filters that can be applied to emails and messaging services. This usually results in a much higher response rate.
Why should I use an SMS service?
Sending text messages can be a time-consuming process, especially if your company needs to send out hundreds, if not thousands, of messages, otherwise known as bulk SMS.
If you have a large customer base and want to send out messages to your subscriber list, then it is worth investing in a dedicated service.
These services should offer a Tier 1 network which can connect you directly to all the major carrier networks all over the world, providing reliability and 99.95% network redundancy. By using a secure, single connection, your communications are guaranteed quicker delivery and minimal delay.
These services will also be able to provide you with competitive pricing, especially when sending corporate bulk SMS. Many of ToucanText's customers send, on average, 30,000 text messages per month, so pricing does obviously become a factor.
Using an SMS service also means that communication and campaigns are much easier to track and analyse thanks to the ability to receive delivery reports.
What should companies look for when selecting the best SMS service?
As well as the above Tier 1 network, you should be looking for an SMS provider that is versatile and offers a range of SMS creation and delivery methods.
What type of service you require will be dependent on who needs to send the text messages, how many you need to send and also what you want to achieve? For example, some companies may simply want to send single personalised text messages via email. Others may want access to an easy-to-use online portal.
For companies that want to integrate SMS capabilities into existing apps or software then you need to look for a service provider that offers API code that is compatible with the software; whether you are programming in C#, C# Async, HTTP, Java, PHP, VB.NET or VB.NET Async. This makes it extremely easy to integrate into company business systems and will enable you to start sending immediately.
If you want the ability to receive replies to your text messages, then you need to select a provider that can offer cost-effective inbound numbers. Once these have been acquired, you will be able to include short code numbers or words on other marketing or informational material in order to encourage people to send messages to your company.
If the text messages are of high importance and the communication needs to be acted swiftly upon, then it's also worth finding out if the provider offers flash SMS capabilities. Flash SMS is a type of SMS delivered to a recipient's handset that appears directly on the main screen without user interaction and is not automatically stored in the inbox. The most prominent use of flash SMS is for two-factor authentication (2FA) messages.
How to send automated texts
A very significant feature that many companies require, but one that not many service providers can offer, is the ability to automate SMS when triggered by certain events or in response to inbound text messages. Automating SMS guarantees the timing, relevance, personalisation and performance of communications and can help cut costs, improve communication and reduce risk.
An automated SMS system can also be integrated with a wide range of applications and software including CRM, ERP, marketing and warehouse management systems, enabling you to create and distribute data-driven, personalised SMS messages to employees, prospects, suppliers and existing customers at the exact moment the communication is required.
Creating and importing lists for corporate SMS
Once you have selected a provider and set up an account, you need to determine how many messages you want to send out. The best way of doing this is to create target or subscriber lists. These should be created and defined by specific groups, dependent on the messaging that you want to communicate.
A quick way of achieving this is by importing spreadsheets into the SMS service that have been exported from your CRM or ERP system. Alternatively, for smaller groups it's simply a case of manually inputting the contacts into the relevant system.
As with any marketing or communication activity these days, SMS is also regulated, and therefore you need to have the recipient's permission to send them a text message. This is even more pertinent since GDPR came into force. If you send a marketing SMS to a customer, make sure that they have the ability to opt out of the communication.
The best way of increasing your outreach and making sure that your subscriber list is compliant is by encouraging customers to opt into the service by including a sign up form on your website or adding short code names and numbers to additional marketing material.
Sending a successful text message
Once all the logistics are in place, the most crucial aspect of this entire process is the actual creation of your text messages. What exactly are you trying to achieve? Knowing your market and recipients is essential.
If the text messages are for support purposes, responding to information requests or alerting employees to sales, technical issues or jobs, then their creation is fairly standard.
However, when they are being used for marketing purposes, you need to make sure that your text messages are targeted at the right demographic and convey the right message in order to grab people's attention. Thinking carefully about specific groups will make sure that your messages are successful.
With only 160 characters at your disposal, constructing the correct message is essential so that the communication isn't confusing. Therefore a single call to action (CTA) is all that is required. The language also needs to have a warm, personal tone and it can't be emphasised enough that you should check your spelling and grammar thoroughly before hitting the send button.
For more information on how to integrate SMS into your apps or business systems, call 0330 998 0022 or email info@toucantext.com.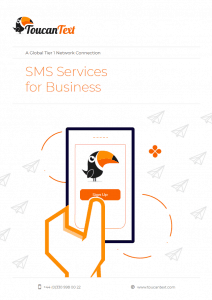 ToucanText Brochure - SMS Services for Business
Our global network enables you to connect to over 7 billion people, across 195 countries, via 1600 direct-to-carrier and Tier 1 connections, guaranteeing global outreach..
Download Brochure