How to improve text messaging in business communication
Text messaging in business communication has become an essential tool for organisations of all sizes, in all industries.
The use of SMS in business communication helps to increase the visibility of information both internally to employees and key stakeholders, and externally to customers, suppliers and prospects.
Using a text messaging service for business enables you to improve communication, increase sales, maximise revenue opportunities and enhance customer satisfaction. Common areas where texting software for business can enhance communication include:
Finance department: Large customer account placed on credit hold, aged debtor updates, overdue payment reminders to customers, payment received notifications
Warehouse and logistics: Stock level alerts (too high / low), delivery notifications, dispatch alerts, product now in stock
Sales and marketing: Delivery confirmation, sales promotions, discount codes, contract renewal reminders, appointment confirmations and reminders, price changes, customer surveys
Information Technology: Systems down, website down, hacking attempt, server room notifications
Manufacturing: Delayed delivery of materials, production delays, timesheet reminders
Field / Service: Service date reminders, job completion, appointment changes or cancellations, expected time of arrival
For more examples read: 25 Text Message Examples for Businesses
Text messaging in business communication benefits
Every business is different; from the products and services offered, to the day-to-day business processes and workflow tasks required for the company to perform. Each individual task, process and business requirement varys depending on the needs of the organisation. However, the main benefits that can be achieved through text messaging for business use include:
High delivery and open rates
Most text messages are opened within three minutes of being sent. This means that if you want to reach a large number of people – for example, existing customers or prospects to promote a sale or discount code – then SMS mass text messaging for business provides a great tool for achieving a high conversion rate. With the popularity of mobile phones and texting, you should achieve better results than solely dedicating all of your resources to email communications, which can easily end up in a spam folder or be ignored by the recipient.
It's called Short Message Service for a reason
An SMS text message is limited to 160 characters, which means that you can get your message across easily, allowing employees and customers or prospects to act on the information quickly.
SMS boosts customer communication and interaction
In short, mass text messaging in business simplifies the way a business interacts and communicates with its customers. It can be used as a cost-effective marketing tool to increase brand awareness and loyalty through discount codes. It can also be used as a customer service tool to receive feedback on a service or enquiry. Additionally, SMS in business can be used to distribute SMS surveys, competitions, product updates and news updates.
Business SMS packages can be used internally
SMS messaging services are not just used to send customers text messages. They can be used internally too. For example, the IT department can be alerted to issues with the company website, business systems being down or for hacking attempts. Off-site and field-based employees can be kept up to date with appointment changes and supply job completion notifications. Other areas of the business that can benefit could include the finance department when an account has been placed on credit hold or when a payment is overdue. The warehouse can also benefit from receiving internal text messages, such as receiving new stock delivery updates, to make room on the floor, or for low stock level warnings.
Become less reliant on internet access
Many employees are reliant on sending and receiving email communications which are reliant on systems and the internet being easily accessible. SMS does not rely on the use of data, which means that it is more likely to be read and actioned over email correspondence.
SMS is cost-effective
When compared to purchasing paid for advertising, such as PPC or CPM, text messaging is an extremely cost-effective alternative when sending mass text messages. It also ensures a higher delivery and open rate.
Utilise an automated SMS system
To get the best use of SMS in business communication many organisations automate SMS messages on a scheduled or database triggered event. An automated SMS system provides organisations with the ability to automatically create and distribute personalised SMS messages to reach the right person at the right time.
An automated SMS solution allows you to monitor multiple databases, in different systems and departments, generating text messages when a certain business process, task or business rule is triggered. As business information is held in multiple locations, information can become disparate and difficult to find when data changes are monitored manually. An automated solution reduces manual tasks and will automatically identify key database changes that need to be actioned without being reliant on employee workloads.
Typical areas within an organisation that could benefit from SMS automation include:
Warehouse: Automated low stock level notifications to trigger reorder point process, automatic warehouse delivery alerts, dispatch alerts and pick list notifications etc.
Finance: Automated credit limit notifications, automatic payment overdue notifications etc.
Sales and marketing: Automatic price change notifications, sales discount alerts, automated SMS marketing campaigns for slow selling stock etc.
Information Technology: Automated server room breach alerts, automatic system down notifications etc.
Service Management: Automated service reminder notifications, alerts to engineers regarding completed jobs or job updates etc.
Finding the right business text messaging platform
There are many business text messaging platforms available globally which makes selecting the right SMS solution a difficult task. We've put together the following consideration points to help you choose a business text messaging platform that is suitable for your requirements.
Business knowledge and experience
A business SMS provider can add real value to your organisation if they understand your industry sector, business processes and challenges that you face. Obviously, they will understand SMS and the benefits it can provide, but true value can be gained if they can help you identify areas where you can utilise SMS, both internally and externally, to achieve the best results.
Free Trial
Before making a final decision on a business text messaging platform it's best to try before you buy. Each SMS platform is different. Speak with a few SMS providers directly and dedicate some time to research and trial a solution. This can help you weigh up the pros and cons of each selected platform.
Data Storage
If you are a UK company it's best to find out where your data will be stored when researching the right SMS service provider.
Automated SMS System
If you are looking for a more complex SMS platform that requires SMS notifications to be created and distributed on a database trigger, ensure that your chosen SMS business platform provides this function with the support required to deliver a fully automated SMS environment.
SMS pricing is competitive
You may find yourself to be tempted to go with the cheapest business SMS service provider. Some SMS providers provide low cost SMS business messaging but neglect to inform you of some finer details. For example, some traffic may be routed through another network. Before making a final decision on your preferred business SMS service, request details that surround the delivery of SMS messages and SLAs that are in place.
For more information on how to improve text messaging in business communication, download the brochure below, call +44(0) 330 998 0022 or email info@toucantext.com.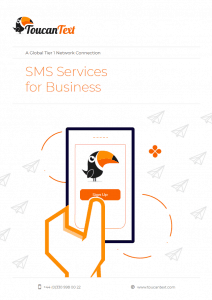 ToucanText Brochure - SMS Services for Business
Our global network enables you to connect to over 7 billion people, across 195 countries, via 1600 direct-to-carrier and Tier 1 connections, guaranteeing global outreach..
Download Brochure