SMS for insurance companies
Using SMS for renewal reminders, claim updates and marketing campaigns can help insurance organisations improve customer service and increase business efficiency.
The insurance industry is highly competitive and customers will simply switch to another provider if they have a bad user experience or poor customer service.
At the centre of this is communication. Customers expect to get answers quickly, have information provided to them in a timely manner, as well as receive communication that is personalised and tailored towards them. After all, insurance is often a highly personal subject matter.
Insurance companies therefore need to strike the right balance between human interaction and automated communication. A unified communication strategy should be implemented to achieve this, including SMS which can play a critical role.
As communication about insurance can often be time-sensitive, such as policy renewals, claim statuses or changes to policies, customers need to be contacted in the quickest, most efficient way possible.
Even in this era of multiple social media channels, text messaging is still one of the most direct and effective ways of contacting customers. Customers are just much more likely to react to a text message than other forms of communication.
This is especially true when integrated into an automation solution, which can monitor multiple databases and then automate the distribution of reminders and updates via SMS.
If insurance claim statuses are distributed regularly, then the customer won't be inundating the company for updates, freeing up staff to concentrate on other tasks. Similarly, appointment and policy renewal reminders can be time-consuming to collate and distribute, so automating these tasks can help the company reduce the burden on staff, free up resources and improve efficiency.
Using SMS for Insurance Marketing
SMS can also be used in marketing campaigns to help enhance the profile of the company and build trust and loyalty. Insurance companies can profile customers and send them tailored promotional SMS messages and special offers.
Additionally, SMS can be used to provide customers with advice and tips relating to their policy. For example, short code numbers can be included on advertising material to invite customers to request an instant quote or register their interest in a particular product.
By using virtual inbound numbers, customers can easily contact and receive information at their discretion. This could help reduce the number of calls to the contact centre thus helping to optimise that part of the service.
Inbound numbers can also be used to carry out surveys, which can help an organisation discover what their customers actually think of the service or find out which areas need improving.
SMS is an extremely cost effective way of communicating and can be used in a number of different ways. Give us a call on +44 330 998 0022 or email info@toucantext.com to find out how we can help your organisation.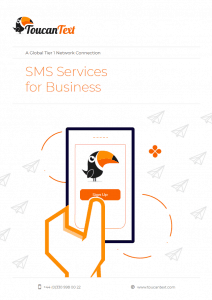 ToucanText Brochure - SMS Services for Business
Our global network enables you to connect to over 7 billion people, across 195 countries, via 1600 direct-to-carrier and Tier 1 connections, guaranteeing global outreach..
Download Brochure