Keeping customers informed by automating SMS notifications
Despite developments in technology and social media, SMS is still one of the most reliable and effective ways of getting information across to customers.
For some psychological reason, people just don't seem to ignore text messages as much as they do with email or physical calls. It probably has something to do with the instantaneous nature of texts and accessibility via mobile phones that mean they are opened and read more frequently.
It is therefore a sure-fire method for keeping customers up to date with information relevant to them, such as delivery notifications, travel updates or changes to appointments, and a good reason to integrate SMS into business systems.
Consumers have increasingly switched from the high street to online shopping in recent years, creating a multi-million pound industry. It is therefore no surprise that order statuses have become one of the most important aspects of customer service in the retail industry. Customers like to know exactly where their purchases are and when they are going to be delivered. Companies that keep them informed with details of dispatch, which courier service and delivery date, create goodwill and often reap the rewards of repeat purchases.
It can be a time-consuming procedure for businesses. However, introducing an automated SMS service which can dynamically monitor business systems, including external courier services, and automatically send a text message to customers with order updates, can not only alleviate this issue but also improve customer service.
Highly important notifications
It's a similar scenario for the travel industry, which is often even more time-sensitive. Delays or changes to schedules can create significant knock on effects that need to be addressed as soon as possible. Passengers or travellers will probably need to make re-arrangements or alternative plans and require that information in real-time
It is something that many governmental departments have also recognised, and are now pushing for its widespread use for emergency incidents. In fact, the European Parliament has recently passed legislation that requires member states to use SMS for extreme situations – whether a terror alert, flooding or wildfires – by adopting a system known as 'Reverse-112' which can issue emergency alerts directly to phones in the affected area.
Getting back to more mundane uses, automated SMS notifications are also useful for reminders about appointments, whether this is for a haircut, meeting with a financial service or a job interview.
SMS is also a powerful marketing vehicle. When used tactically it can yield significant financial returns for any type of organisation. SMS Automation software can automatically identify prospective SMS campaign targets, for example, customers who have not purchased for six months or recently bought a related product, and send them a promotional code or other call to action via text message. Again, the response rate to this activity has been found to be significantly higher than usual methods.
Essentially, SMS can be easily integrated into any business system. By automating the monitoring of data and the distribution of notifications and alerts it can remove the manual processing involved in providing up-to-date information to customers, free up valuable resources as well as enhance customer perceptions of the business.
If you would like more information on adding SMS services to your business software, or would like to discuss how you can keep your customers informed through SMS automation, call 0330 998 0022 or email info@toucantext.com.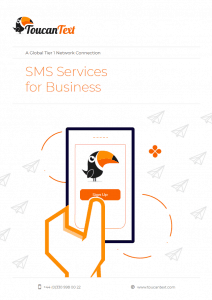 ToucanText Brochure - SMS Services for Business
Our global network enables you to connect to over 7 billion people, across 195 countries, via 1600 direct-to-carrier and Tier 1 connections, guaranteeing global outreach..
Download Brochure