How to choose a bulk SMS gateway provider
There are a multitude of bulk SMS service providers out there, so which should you choose?
More than likely, the price of the messages will be one of your main priorities, and many providers will push this marketing message quite forcefully. However, you need to look beyond just the price to make sure that you are actually getting the quality of service you require for your business and that there are no hidden charges or restrictions.
You should make sure that the provider doesn't charge you for setting up an account, and only charges you for the messages that you use. Some providers can lure you in with cheap pricing but then sting you with additional fees at checkout for set up etc.
You should also make sure that the messages you purchase don't carry an expiry date, which is essential when buying bulk SMS. Once you've purchased a block of messages they should remain in your account until they have been sent.
Minimum or maximum purchases and usage
Some providers may have a minimum purchase requirement and/or usage. It's best to avoid these providers as being able to predict exactly how many text messages you are going to send is not always an exact science, especially if your SMS service is in its infancy stage.
You should seek out a provider that is flexible to accommodate your needs, not the other way around.
SMS solutions you require
One of the other major deciding factors is does the provider actually offer the services you require?
Some providers only provide limited solutions for sending bulk SMS. Companies that fully understand SMS will have a wide range of options to choose from. Whether this is a simple online service, email to SMS gateway, or the capability to provide integration through SMS messaging APIs and full automation.
At the end of the day it depends on your organisation's requirements. Do you want to schedule messages? Do you want the capability to receive messages and potentially automatically reply to them? These are all significant considerations when choosing a bulk SMS provider.
Integrating SMS into your apps or software
With apps and software becoming more intuitive and core to business processes, integrating SMS functionality into them has become an essential aspect. In this respect, you need to check that the service provider is talking your language!
What API codes do they offer? Are they easy to use? Are there sample codes and documentation?
A good service provider will offer a full range of API languages, including asynchronous and synchronous options, and have vast experience in how to integrate SMS into business applications and systems, whether these are small bespoke apps, or full-blown ERP systems such as Access Dimensions, Microsoft Dynamics and SAP Business One.
Network coverage, quality and reliability
Another hugely important factor is the actual delivery of your messages. Is the service reliable; how far and wide can your text messages be sent (locally or globally); and what is the quality of the service? Many providers will offer a limited amount of free messages to test their service, so it's worth using these to test the reliability and quality of a service before purchasing bulk messages or credits.
Some providers can only connect to a limited number of networks and territories, whereas a truly established provider can connect to a multitude of networks on a global scale.
For ToucanText, this means the ability to connect to over 7 billion people, across 195 countries, via 1600 direct-to-carrier and Tier 1 connections.
ToucanText also adheres to local rules using a global compliance engine which removes the complexity of global carriers and regulations, meaning that you can send SMS with low latency and high delivery rates.
Account management and support
Bulk SMS campaigns need to be managed properly and the results measured. You therefore need to select a bulk SMS provider that offers full account management capabilities that are easy to access and use – such as a web-based account management system. This will enable you to easily monitor the number of messages that have been sent or failed, and will usually include a traffic overview, message log and full reporting capabilities.
Has a message actually been sent?
Through the use of delivery receipts (DLR) ToucanText can let you know if a message has been delivered. We either forward DLRs to you, as part of a HTTP request to a URL of your choice, or you can call these messages using our GET Inbound Message function.
Support is also vitally important as SMS can be temperamental at the best of times. Good support should be the basis of any company policy, but we all know that this is not necessarily always the case. To make sure that the service provider has good support infrastructure, why not test it by sending an email to the team. Do they reply? How quickly do they reply? Did they answer your question satisfactorily? Do they appear to have the right knowledge?
There are many SMS providers out there, with many differing qualities. Make sure that you select a provider that provides the best quality service, at a reasonable price, which can satisfy your business requirements.
To find out more about bulk SMS, SMS gateway worldwide, or the services and solutions we can provide, call 0330 998 0022 or email info@toucantext.com.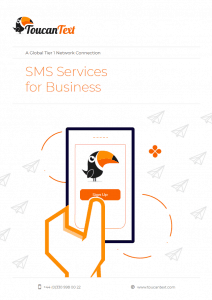 ToucanText Brochure - SMS Services for Business
Our global network enables you to connect to over 7 billion people, across 195 countries, via 1600 direct-to-carrier and Tier 1 connections, guaranteeing global outreach..
Download Brochure