Automating SMS engineer and service alerts
Good service management is essential for businesses to succeed, but keeping on top of all service due dates can be a headache for any organisation.
Notifying and alerting customers, engineers and third party providers about service renewals and jobs is quite often a manual process, which is time-consuming and prone to errors, as communication by letter or email can be easily missed.
However, by automatically sending SMS alerts, a proven method of more successful communication, this process can be greatly improved, making sure that each relevant recipient is fully informed and aware of the situation. This not only frees up valuable resources it can help improve efficiencies and enhance customer service.
ToucanText's SMS Automation software enables you to dynamically integrate ToucanText SMS services within applications, business systems and websites. The software can then be used to monitor these systems and automate the distribution of text messages when certain triggers are initiated or schedules are set.
Alerting customers about service contracts / renewals
SMS Automation software can be used to monitor customer accounts in your CRM or ERP system to check for forthcoming services that are about to expire or due for renewal for particular assets (boilers, gas repairs etc.), machinery or products.
An SMS alert can then be automatically generated and issued to the customer, reminding them that a service is due, and to get in contact to arrange a visit by an engineer. The alert can include suggested dates and times.
Once arranged, a follow up SMS alert can be sent to confirm the appointment and then a reminder sent on the day or the day before.
Informing engineers of new / re-assigned jobs
When a service job has been received by your business and inputted into your system, ToucanText's SMS Automation software can automatically collate the information and then send an SMS alert to the relevant engineer. The alert can provide details of the job request, including problems and parts required, as well as the location of the job and the date and time that it has been scheduled.
This is extremely useful for service personnel as they are usually at a customer site or on the road with limited access to email or the organisation's business system.
Reminding engineers of job completion forms
Engineers are usually extremely busy, rushing from job to job, and can therefore often fall behind on submitting necessary job completion forms. These are essential to keep customer details up to date and to make sure that jobs have been completed.
SMS Automation can monitor job progressions and send a reminder alert to an engineer if they haven't completed the relevant forms, requesting they do so as soon as possible.
If you would like more information on automating SMS engineer and service alerts or would like to discuss how you can keep your customers informed through SMS automation, please call 0330 998 0022 or email info@toucantext.com.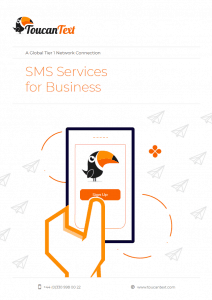 ToucanText Brochure - SMS Services for Business
Our global network enables you to connect to over 7 billion people, across 195 countries, via 1600 direct-to-carrier and Tier 1 connections, guaranteeing global outreach..
Download Brochure